Click Here To Become a Member!
Our Supreme Plan members received this deal at 3pm on 8/11/2019, three hours before the general public! Click the blue button above to get a Supreme subscription. They had a 5 hour head start to book their flights. This deal died at 8:45pm CDT, so any of our Supreme Plan members had plenty of time to book their flights. The BEST deals don't last long. Estimated savings on this deal is around $2800 per person depending on route.
See updates at the end of this article for continued coverage.
Looks like AA has expanded the sale to all dates and added additional routes. What a way to encourage Royal Air Maroc to join OneWorld! 🙂
7 Day Minimum Stay
Dates are restricted to June 4, 2020 through End of Schedule (because that's when these routes start) Dates are wide open!!
Some Routings through Madrid are open for most of the calendar*
American Airlines is launching a massive sale to advertise their new routings from Casablanca to North America, and some of these deals are just too much to handle.
The list of destinations is SO long, that we just used GCMap and created this neat little image for you: (Note: Hawaii, Alaska, and some Caribbean)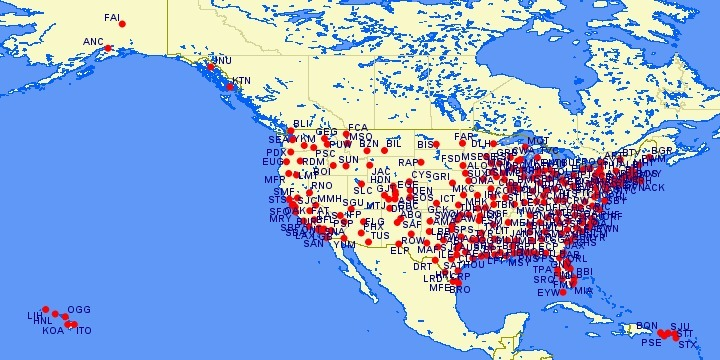 How to book:
Right now we're finding these deals are available on AA.com and nowhere else. Flights only operate 3 days a week, so make sure you are looking at valid dates. You must be on AA flights 82 and 83 direct from CMN-PHL in both directions to get the sale pricing.
Update: As of 11:29pm Local Casablanca time, you can now find these deals on OTA's such as Expedia, Priceline, and Travelocity.
Update: As of 11:41pm Local Casablanca time, you can now route through Madrid, which changes availability – and gives you most of the calendar – wide open from October through End of Schedule.
Note: Information is valid at the time of publication. Since prices fluctuate and airlines alter the terms and availability of fares quite often, you may arrive to this page after these deals have expired.